WindRider 17 Mylar Race Mainsail Extra Large with Mast Extension
The standard WindRider 17 has (alongside its jib) a 9 square meter mainsail, which provides plenty power, while at the same time allows the boat to be safely used in nearly all conditions. In low winds one can certainly use some extra power though, so we already offered the Reacher Kit as an option to be used on downwind and reaching courses. But to increase upwind performance as well, one not only needs more sail area, but also a mainsail with a longer luff, We thus offer a great extra large mainsail upgrade kit, which increases performance on all courses.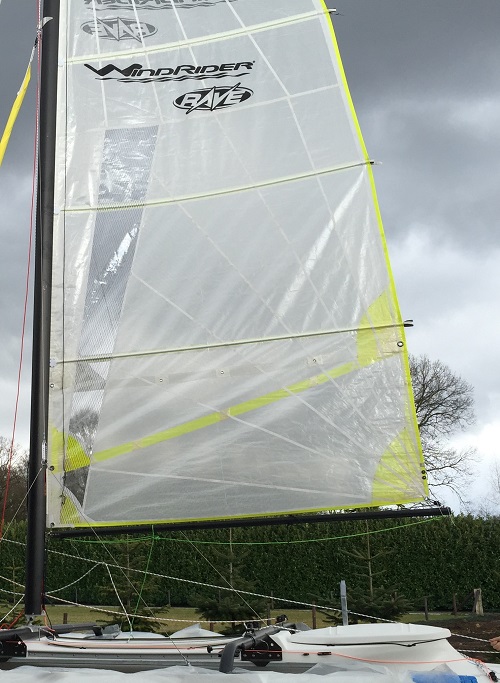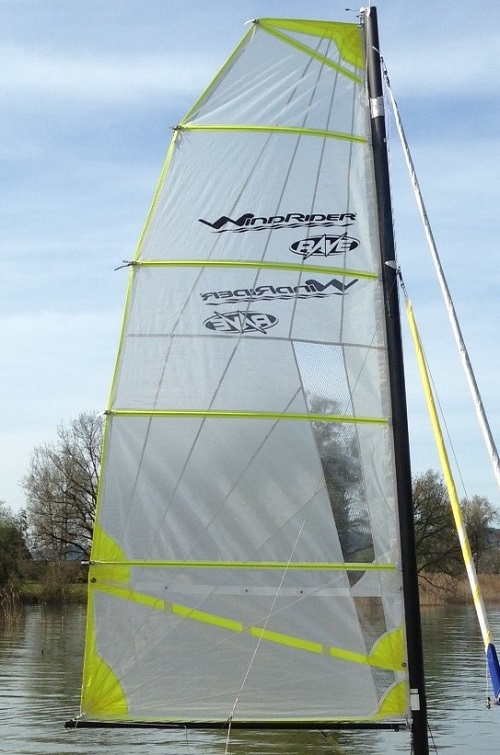 The upgraded mainsail is a Mylar sail which was designed for the WindRider Rave, but is adapted to fit perfectly on the WindRider 17, using the original mast and boom. It comes with a mast extension that can simply be attached to the top of your existing mast. The result is a fat-head mainsail with a circa 35% larger area, a slightly longer foot, and a nearly 20% longer luff. Together with the overall better cloth and improved shape of this sail, the increase in performance on all courses is impressive.
The sail is transparent white with the option of a teal or yellow trim color. This kit includes the sail, sail bag, the mast extension, longer halyard and all required hardware and fittings. In stronger winds you can reef the XL mainsail, or alternatively use your original WindRider 17 mainsail by just not hoisting it all the way to the top of the longer mast.