WindRider AS1 / AS2 Upgrade Kit
The AS1 / AS2 Upgrade Kit contains all the parts, fasteners, color coded hardware and ropes to turn a standard WindRider 17 (model 2007 or later) into a full blown adapted sailing racer. Disabled and able-bodied sailors can now compete on equal grounds in a performance boat in one-design AS1 and AS2 class races.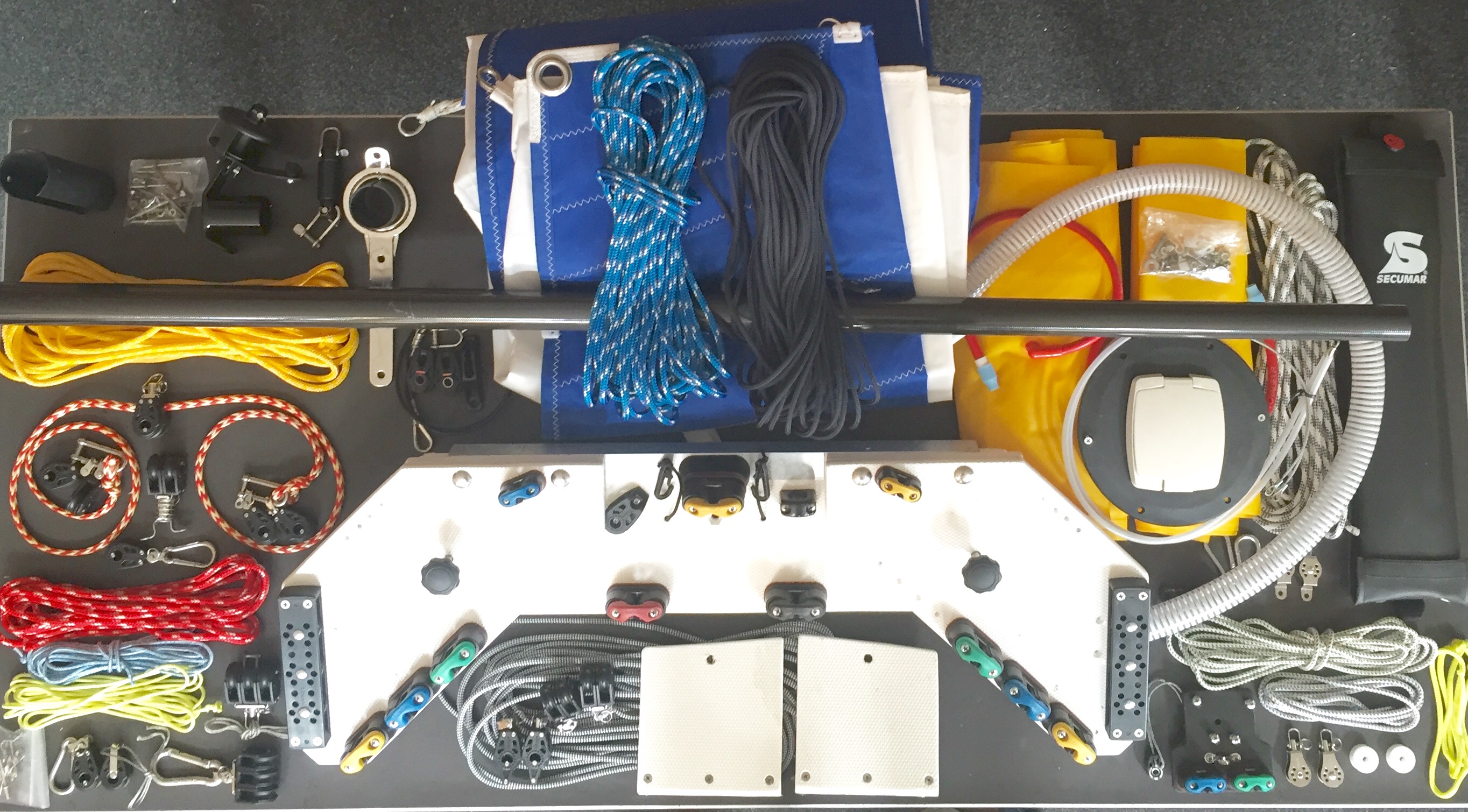 The Kit consists of:
- A furling reacher with carbon bowsprit.
- Mid-boom sheeting with traveler control.
- Foot steering in the front cockpit.
- An ergonomic cleat console where all lines (and optional hand-steering) come together (including mounting brackets).
- A safety package containing durable buoyancy bags in the ama's and an automatic flotation device, which can be hoisted into the top of the mast during extreme weather conditions.
- Adjustable backstays, mast rotation, outhaul and downhaul from the front seat.
- Floating tow line.

The Kit allows the WindRider 17 to compete in both AS1 solo racing (in which case you need to add the optional Front Foot Steering or discounted Hand-Steering to be mounted onto the cleat console), as well as AS2 racing for two.
If your WindRider 17 already has the original WindRider Reacher Kit installed on it, we offer a discounted version of the Upgrade Kit, and just supply those parts to get your existing Reacher in spec with the AS1 and AS2 reacher setup.
All items are neatly categorized and within a couple of hours everything can be installed. After installation you can quickly swap between the standard WindRider 17 setup for recreational use, and the AS1 or AS2 configuration for (adapted) racing.
A great suggestion for sailing clubs is to use a couple of standard WindRider 17's for daily activities, have a few hand-steering Kits available for disabled sailing, and pre-install the Upgrade Kit on one (or more) of these boats, so when an AS1 or AS2 race is being held you can send your best sailor(s) to this event, by just temporarily adding the AS1 or AS2 equipment.